Learning Optimal White Matter Tract Representations from Tractography using a Deep Generative Model for Population Analyses
Highlights
Propose a VAE for to predict WM structural anomalies in tractography.
Introduction
Authors propose to use a convolutional VAE for anomaly detection between normal control and cognitively impaired subjects using tractography data.
Methods
They use a convolutional VAE as their DL model:
Their streamlines are resampled to 256.
They use batch normalization and average pooling layers.
Gradient clipping is used to prevent exploding gradients.
Architecture

They investigate the effect of the latent space dimensionality in preserving the streamline space distance:
Streamline-wise distance: Minimum Direct Flip (MDF) distance in streamline space vs. Euclidean distance in latent space.
Centroid-wise distance: same as streamline-wise distance.
Bundle-wise distance: bundle-based Minimum Distance (BMD) distance in bundle-space vs. Wasserstein distance in latent space.
The Spearman and Pearson correlation, and the coefficient of determination values are computed to determine the optimal dimension.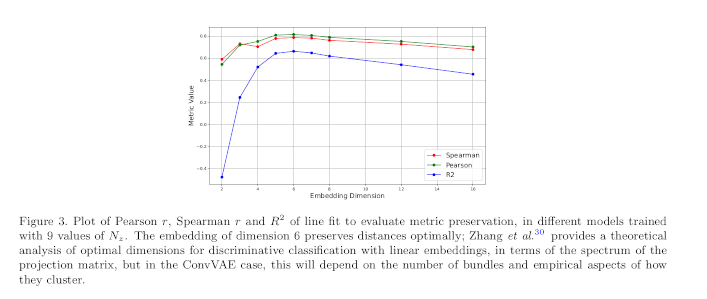 Data
ADNI dataset: 141 participants: 10 with Alzheimer's Disease (AD), 22 mild cognitive impairment (MCI); 87 cognitively normal controls (CN).
Used multi-shell data.
Registered all subjects to MNI space.
30 bundles were studied.
10 CN subjects are used for training.
Evaluation
Mean absolute error (MAE) between the input and the reconstructed features.
Results
Anomaly detection across bundles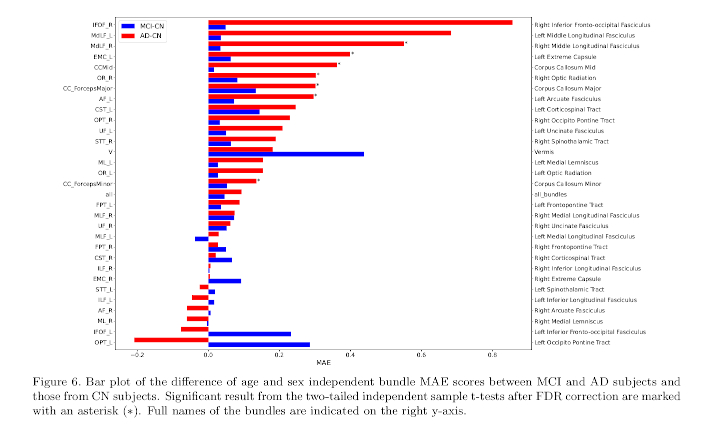 Anomaly detection along bundles (tractometry)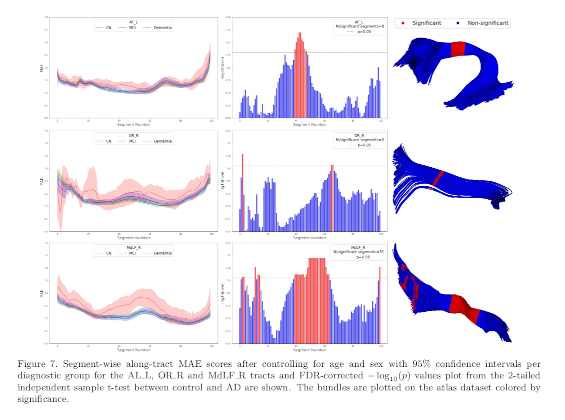 Conclusions
Authors identified 6 bundles with statistically significant group differences and specific locations along the length of the tracts with anomalies after controlling for age and sex effect.