ResMLP: Feedforward networks for image classification with data-efficient training
Highlights
Architecture using only linear (fully-connected) layers at its core
No convolutions, transformer layers, batch norm, pooling (except at the end).
Performance competitive to CNNs and Vision Transformers
Methods

Split image in non-overlapping patches. Typically 16x16 images. Fixed image size: 224x224.
Take each patch, and flatten and embed it to a high dimensionality vector : we get a (num_patches, vec_size) matrix
Residual Multi-Perceptron Layer (repeated multiple times)

Cross-patch connectivity block: transpose the data matrix before passing it through a linear layer. Now, each channel is independent, and a patch can be influenced by all patches from the previous layer. The weights are the same for all channels.
Cross-channel connectivity block: apply a linear layers to the (num_patches, vec_size).
Non-linearities: Only one GeLU layer after the cross-channel communication.
Normalization layers: No batch norm, layer norm or anything. Replaced by a learned affine transformation. Used before and after blocks of operations.
Skip connections

Global average pooling
Final linear layer
They also propose a model for sequence-to-sequence modeling.
The authors reuse many aspects of the methodology of their previous paper(s) about the training of Vision Transformers.
Data
ImageNet-1k
ImageNet-real (some results)
ImageNet-v2 (some results)
ImageNet-21k (some results)
Experiments
Compare with other classification architectures (CNN, transformers) in supervised learning

Better measure generalisation by using other ImageNet-like datasets with a "clearly defined" test set

Self-supervised learning (DINO)
Knowledge Distillation (Distill a CNN into a ResMLP)

Seq2Seq

Visualisation of cross-patch connectivity
Sparsity of the weights
Ablation studies
Results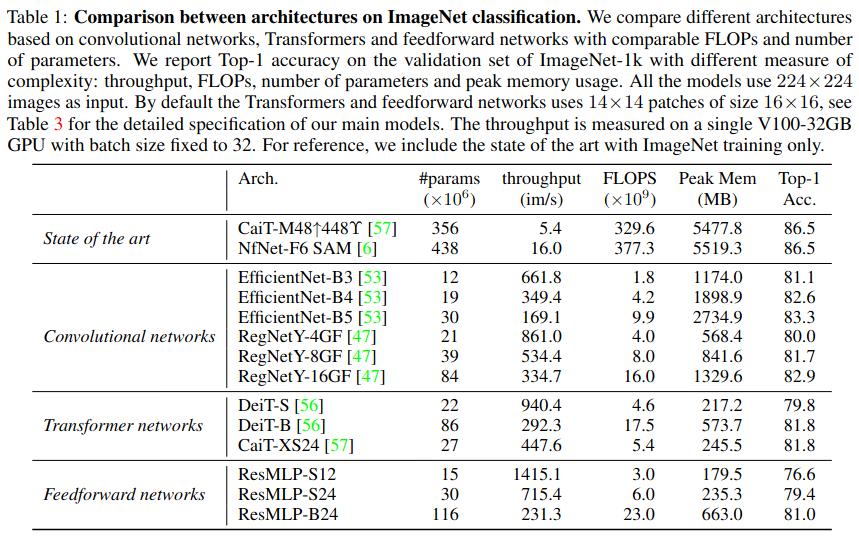 Conclusions
Surprising results for a model consisting mainly of linear layers
Benefits greatly from Knowledge Distillation
Something similar to self-attention can be done simpler than what is seen in Transformers
The use of BatchNorm, and normalization layers that rely on batch statistics in general, is questionned.
Remarks
They are not alone studying this, they mention 4 concurrent works (footnote p.2)
Maybe it shows that the vast majority of examples these datasets can be solved using crude intuition. It's only for a small number of harder examples that a more advanced architecture makes a difference. But in the small number of examples where ResMLP fails, it may not be acceptable mistakes.
Adversarial examples? Easier to fool this model?