AAVAE: Augmentation-Augmented Variational Autoencoders
Highlights
New VAE training scheme that outperforms original VAEs in downstream classification
The KL divergence term is removed
"Denoising" is introduced
Introduction
Authors propose a new scheme for training VAEs. They want to revive the idea of using VAEs for self-supervised representation learning. A popular benchmark for self-supervised representation learning is to first train an encoder without supervision, then train a single-layer classifier with supervision that takes the latent vectors as input. SimCLR is very strong in this benchmark. AEs and VAEs obtain very poor results. AAVAE (Augmentation-Augmented VAE) obtains results competitive to SimCLR.
Augmentation-Augmented VAE is a silly name1.
Methods
In short, here is what changes from VAE to AAVAE:
Images fed to the encoder are randomly transformed (using a data-augmentation pipeline typical for images)
The decoder has to recover the original, non-transformed image
The KL-divergence term is removed from the loss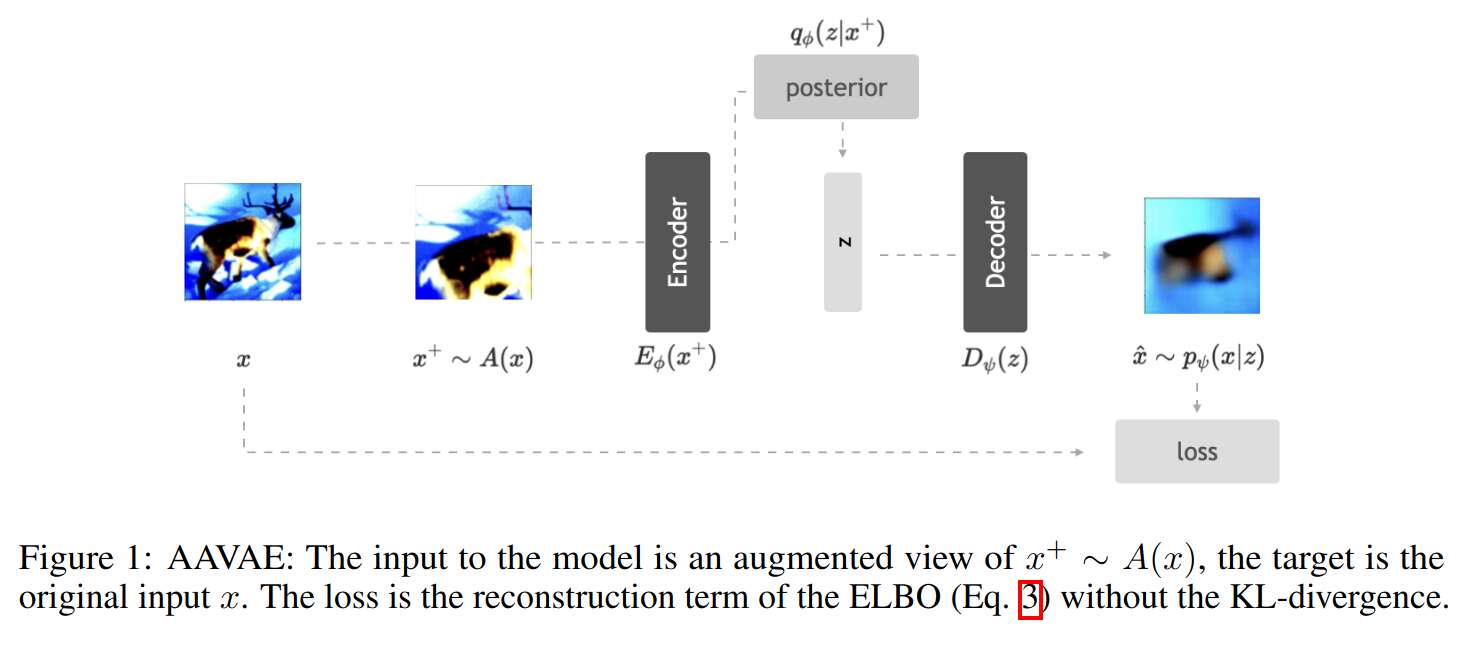 Data
Experiments are done on CIFAR-10 and STL-10. (STL-10 is similar to CIFAR-10, but tailored to unsupervised learning, and its images are 96x96.)
Results
As a measure of the quality of learned representations, a single-layer classifier is trained on these latent vectors and evaluated:

Authors study the importance of the KL term by weighting it by a \(\beta\) coefficient:

Authors study the sensitivity of AAVAE to hyperparameters:

Authors study the similarity of latent vectors, and find that transformed versions of the same image are more similar than those with a different source; this is not the case for VAE:
Conclusions
Data augmentation has been shown to be important in self-supervised learning. KL-divergence based regularization is domain-agnostic, and authors argue it is inadequate for representation learning. These two arguments motivate AAVAE.
AAVAE is much better than VAE in terms of downstream classification performance. Authors say that this means the representations produced are higher quality.
AAVAE is less sensitive to hyperparameters.
AAVAE does not outperform SimCLR in downstream classification. However, it has generative capabilities, which SimCLR does not have.
References